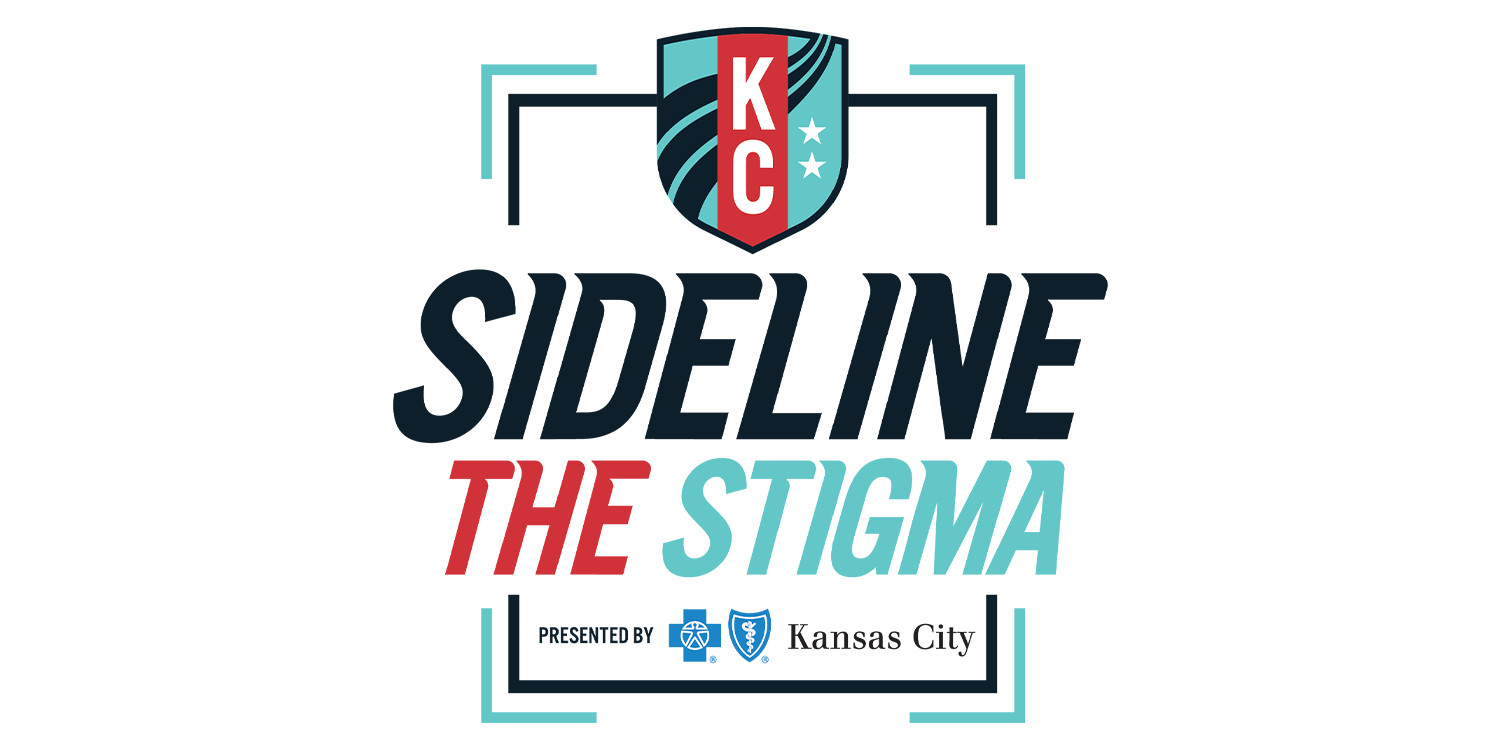 The Kansas City Current and founding partner Blue Cross and Blue Shield of Kansas City are proud to unveil their new initiative, Sideline the Stigma, to raise awareness for behavioral health. This effort focuses on removing the stigma surrounding mental health and promoting resources to help Kansas Citians. Behavioral health continues to be a major focus for the Kansas City Current. Members of the organization's leadership team underwent Mental Health First Aid® certification training, presented by Blue KC and the National Council for Mental Wellbeing. The team has also worked with other local organizations, including Zero Reasons Why™, a storytelling and community mobilization campaign to remove the stigma of behavioral health and prevent teen suicide.
In partnership with Synergy Services and Blue Cross and Blue Shield of Kansas City we hosted our Sideline the Stigma Event on August 26, 2023. The event was open to youth ages 14-18.
WHAT IS BEHAVIORAL HEALTH?
Behavioral health describes the connection between behaviors and the health and well-being of the body, mind, and spirit. It includes mental health conditions, but it is bigger than that. It is how our daily habits and behaviors affect our overall emotional, psychological, and social well-being. It affects how we think, feel, and act. It also helps determine how we handle stress, relate to others, perform at our jobs, and make choices.
One in five U.S. adults will experience a behavioral health condition during any given year, and less than half will receive any treatment. More than 2.5 million U.S. youth live with severe depression, but only one-third receive consistent mental health care (Source: Mental Health America). Behavioral health challenges can affect a person's thinking, mood, and behavior.
#ZeroReasonsWhy™ is a teen-led storytelling and community mobilization campaign that focuses on removing the stigma of mental health and prevent teen suicide. The Zero Reasons Why™ name is founded in the belief there should be zero reasons why we can't and shouldn't equip, empower, discuss, educate, remove stigma and come together to impact prevention, treatment and recovery. Blue KC introduced KC Current to #ZeroReasonsWhy ™ in its inaugural season and the organization was named Community Champion of the Match for the October 10th game. This season, mental health has been at the forefront of our players' hearts, as they chose #ZeroReasonsWhy™ as the beneficiary of the Challenge Cup Jersey Auction and had the opportunity to partner on the production of videos to reduce the stigma and participate in their community with a focus on behavioral health.
There are risk factors and life stressors that may increase a person's risk of developing a behavioral health condition, including:
Biological factors such as genes, brain chemistry, or brain injury
Life experiences such as trauma, loss, neglect, interpersonal violence, or abuse
Family history of behavioral health conditions or substance use disorders
Discrimination, social injustice, bullying, marginalization
Lack of access to adequate healthy food and water
Social isolation, lack of friends and healthy relationships, and relationship conflict
Unsafe housing or homelessness, lack of resources, environmental hazards
Legal and financial stressors, lack of accessible transportation
Chronic medical conditions, lack of access to quality healthcare
(Source: MentalHealth.gov)
These risk factors are not destiny.
We each carry risk factors and experience life stressors that may increase our risk of developing a behavioral health condition, but we also have protective factors that help us to effectively manage stress and overcome some of the risk factors that may be out of our control. Protective factors include:
Eating a healthy diet, exercising regularly, and getting restful sleep
Creating and nurturing healthy relationships, attachments, and connections
Developing good coping skills and good problem-solving skills
Feeling a sense of optimism about the future, looking forward to the future
Becoming and remaining self-sufficient financially, emotionally, and practically
Engaging in the community through activism, social activities, or volunteering
Developing and living by a set of values, morals, or spiritual beliefs
(Source: MentalHealth.gov)
Mindful moment
KC Current and Blue KC go all access with the team, taking you inside the huddle, and behind our season's big moments to see and hear how important behavioral health is for professional athletes.
INSPIRING HOPE
The good news: There are many ways to find help if you are someone living with a behavioral health condition. There are different types of treatments available for behavioral health and substance use conditions. Most people who receive treatment for behavioral health conditions can recover fully and live a symptom-free and purposeful life.
We each have a role to play. By educating ourselves about the signs and symptoms of common behavioral health conditions, we can help a friend or loved one who may be experiencing a behavioral health challenge.
People are more likely to seek help if someone close to them suggests it. Helping someone get help early, when symptoms start, can prevent a behavioral health crisis, job loss, school problems, relationship trouble, or other negative consequences.
WHAT EACH OF US CAN DO
Blue Cross and Blue Shield of Kansas City partnered with the KC Current to provide Mental Health First Aid® training to the KC Current organization's leaders. On April 6th and 7th, seven KC Current leaders became Certified Mental Health First Aiders®!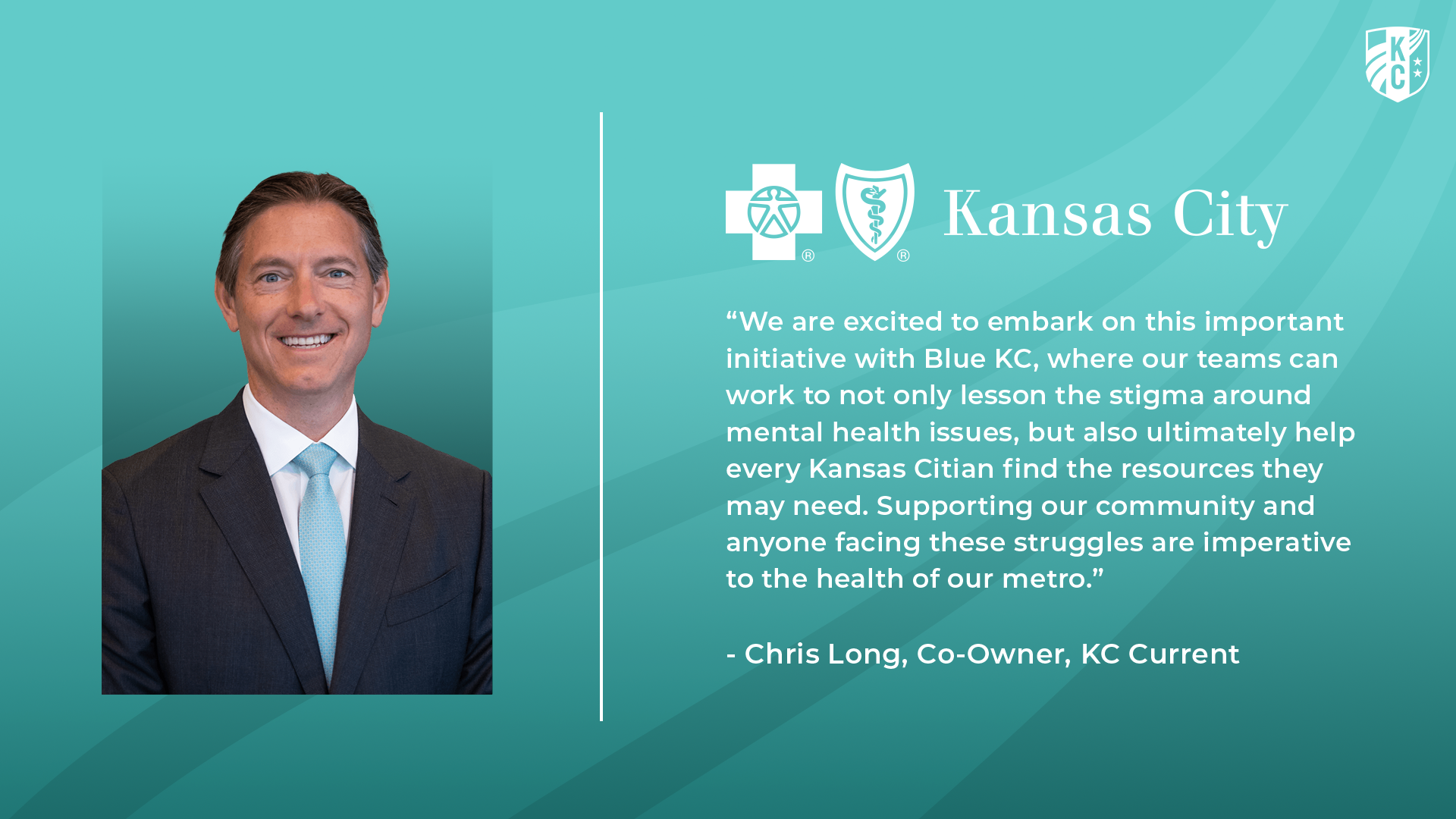 WHAT IS MENTAL HEALTH FIRST AID®?
Mental Health First Aid® (MHFA) is the initial help offered to a person developing a mental health or substance use challenge or experiencing a mental health crisis. The first aid is given until appropriate treatment and support are received or until the crisis resolves.
Those who complete MHFA training and become MHFA will be able to recognize the signs and symptoms of mental health challenges, apply the appropriate steps of the MHFA Action Plan when a person shows early or worsening signs of a mental health challenge, and apply the appropriate steps of the MHFA Action Plan in crisis situations.
There are people living with mental health conditions in every community where you live, work, and play. Knowing how to reach out and provide that initial help and support to someone in need helps to create a happier, healthier, and safer community for all. That's why teachers, supervisors, first responders, caretakers, co-workers, journalists, parents, and even celebrities have joined the Mental Health First Aid® movement.
Blue Cross and Blue Shield of Kansas City is also offering Mental Health First Aid® to Blue KC's school district partners.
JOIN KC CURRENT LEADERS IN THE Mental Health First Aid® MOVEMENT
Anyone 18 years and older can become a Mental Health First Aider®. To find a Mental Health First Aid® course near you, go to https:///www.mentalhealthfirstaid.org
Resources
Kansas City Area
Johnson County Mental Health Crisis Line — Johnson County, Kansas
Wyandot Center Mental Health Crisis Line — Wyandotte County, Kansas
Heartland RADAC (alcohol and substance use) — Kansas
CommCare Mental Health Crisis Line — Kansas City, Missouri
First Call (alcohol and substance use) — Missouri
Kansas City Center for Inclusion: Kansas City's LGBTQ+ Community Center & Resource Hub—KC Metro
National Bahvioral Health Resources
988 Suicide & Crisis Lifeline
Substance Abuse and Mental Health Services Administration (SAMHSA)
National Alliance on Mental Illness Helpline